Getting The Best Deal On A Used Car
Getting The Best Deal On A Used Car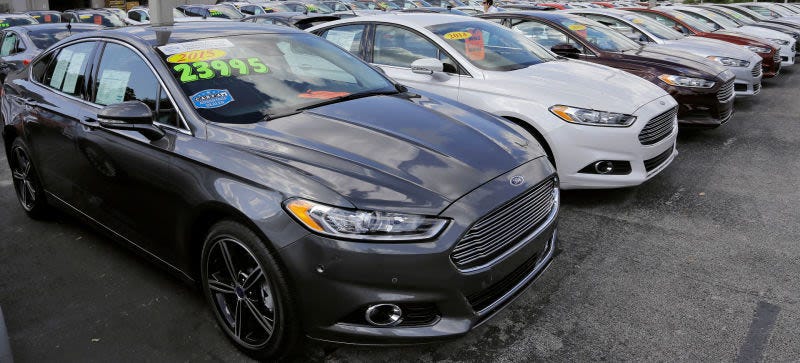 Are you looking to purchase a new car? You need to take the time to inform yourself. You won't have to get something that you are just settling for anymore.
Go to different dealerships before settling on one.
A different dealership might be able to get you a better price on the car you want, and may be running different promotions. Try three or four in your area, and even if you have to travel a bit farther, it may be worth it.
Establish a budget before you go car shopping so you have a great idea of what is in your price range. Try your best to stay within your budget. If you must go over, the amount that you go over should not be so significant that it puts you in a financial bind.
Take a good look at the underside of the vehicle. Try to keep your eyes peeled for signs of rust and erosion. A car can look great on the outside, but be falling apart underneath. If you see rust under the vehicle move on. This could mean a lot of repairs later on.
If you are going to be purchasing a used car, one of the top things you should be looking at is the mileage of the car. As nice as a car may be, if it has 150,000 miles on it already, you probably will not get much use out of it.
Once you have found the perfect car, ask for a vehicle history report.
A vehicle history report will list any instances that the vehicle has been involved in. If your dealer does not offer this service, you can purchase one yourself online for a nominal fee. This report will help you avoid purchasing a car that has been in a wreck.
Those of you who are in the market for a certified pre-owned vehicle would be wise to check the cars certification checklist. This will allow you to be sure that all components have been inspected and everything is in order allowing you to buy with a great deal of confidence.
Do not get all the extras offered during the negotiation. These things include extended warranties, clear coat and fabric care options. You can generally purchase these features after you have bought the car for a fraction of the price. Also, do yo really want to be paying for these few features over the length of the loan.
Read all the documents that are presented to you when you purchase a new car.
They will usually have a large stack for you to sign. Don't feel pressured into signing anything that you do not understand. If you do not understand something, ask about it before signing. Until you sign your name to all the paperwork, you can walk out of the dealership and not owe a dime.
Although monthly payments are important when considering a new car purchase, many times a dealership will extend the length of the loan and raise the interest rate to get smaller payments. To avoid this do not negotiate payment amounts until you have negotiated the sales price of the vehicle.
When looking to buy a new or used vehicle, make sure that you never elude to the fact of how much money you have on your person. You only want to talk about what you think you should put down in regards to the terms and price of the vehicle being discussed.
To make your negotiations go smoothly when purchasing a new car have a minimum of a twenty percent down payment saved. By having a down payment, you will be able to lower your interest rate and payments and have leverage when discussing your trade in options. You may find that you will net more savings by not trading a car in and selling it on your own.
Do not try negotiating unless you see the car that you want is available.
He might tell you that he can get it in for you, but you do not know if it will be the exact one you want. You do not want to waste your time negotiating for a car that you do not really want.
Do you feel better about the car buying process? You should feel that way and this advice can help. You don't need to just be confused about things or think what people tell you is true. You've got the knowledge to find the best deal.